Spring in Liss Gap
We left Blackwell Creek behind us at 8 am. We started up onto Horseshoe Ridge, 3,004 ft. Around the north side of Gooch Mt. we passed the blue blazed trail which led to Gooch Shelter, where we were supposed to have camped the night before. I'm so glad we didn't, because I know we would have been totally exhausted if we had tried to come that far the day before. We had never trekked the kind of miles we were doing on this journey, and we had been very unrealistic about the amount of miles we could comfortably cover in a day while carrying the heavy packs. Five miles a day is perfect, and 8 is way too much. Since we were making about a mile an hr, this means 8 hours of walking, mostly uphill.
We walked 4 miles before stopping for lunch on this the 4th day. We stopped at a neat spring at Liss Gap Surrounded by huge Poplar trees.
Welcome to Woody Gap!
We sat on rocks and ate another cold lunch. I had lots of food to share that needed no cooking. A family passed us heading south. They were going to the top of Gooch Mt. to spend one night. All the children were so excited and we lunched at 2,952.
After our meal we hiked on to Woody Gap. I don't remember this area being too hard. Woody Gap is 3,150 ft. When we emerged into Woody there was a paved road!! Highway 60 passes over the trail here and there was picnic tables and a bathroom with a FLUSH toilet!! Emma and Marsha made use of them, but I didn't need to go then so I kept my pack on. We met a family from Indiana here. We stated one of the toughest climbs of the trip here.
Em at Flush Toilet
Up Big Cedar Mt. 3, 737 ft. We climbed about 5 ft and had to rest 5 seconds, or longer. I leaned heavily on my walking stick and I thanked God that I had one to lean one. Even Marsha looked in doubt of making it a time or too. Emma brought up the rear and I could hear her grunts, refusing to be outdone. It was with great fortitude and determination that we made it up Big Cedar Mt.

By this time (the 4th day) we had no dry clean clothes to wear and we smelled like day old fish. When we reached the Preaching Rock on top of Big Cedar Mt. We collapsed on the bad rock to rest and drink water. We were all red in the face and breathing heavy.
The View
The view was spectacular and this was our reward for making this trek up. We guzzled water like it grew on trees!! Emma was having a chafing problem and she decided to use some powder to relieve the irritation. She pulled her pants down, mooned the valley and powered her derriere as it hung over the cliff. We hoped no one was looking form the other side with a pair of binoculars!!
We stayed here long enough for my hair to actually dry. I replaced my soaking wet bandanna with my dry, but smelly one. It felt so good to be dry. At least on my head. I hadn't had a dry shirt for 3 days!!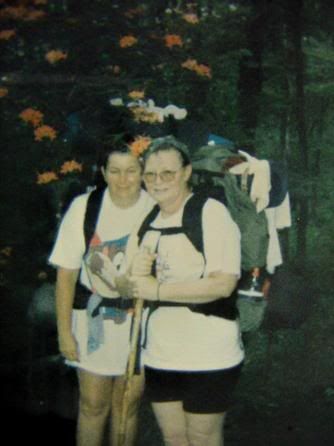 the sisters posing Dan Gap
We breezed through Dan Gap and over Granny Top Mt. We had walked 8.6 miles this day. This turned out to be our longest mileage for one day. When we reached the blue trail leading to the Dockery Lake Marsha and I stopped to look a the map. We wanted to see how far we had to go till we camped for the night. There was a campsite at this location, but no water. There were some stumps and logs scattered around the campsite. Emma staggered over, in her best corncob up the butt walk...and stated to sit down on on a tall stump. Marsha and I shouted unanimously "NO" you can't sit down now, we have only .3 tenths to go!!!
She looked wounded, but straightened her aching back and got up. She threatened to tell Mama, and she did when we arrived back home. We knew how tired she was, but we thought she may never get up again if we let her sit now!
Marsha on the trail
So we trekked onward. Just as promised the campsite we were supposed to use was .3 tenths and we finally arrived. We had walked 8,9 miles this day and it had taken us 9 1/2 hrs. The site was good, with a nice stream running by. We had baths, first and it was COLD. Marsha didn't scream and I thought she was not bathing, but she explained she was too tired to scream even at the ice cold water on her skin.
Marsha decided to sleep her tent again and Emma wanted to sleep out under the stars. I put my tent down as a drop cloth and we used it to sit on and Emma used it later for her sleeping area. We hung our clotheslines immediately upon arrival and got our wet things off our packs. We really needed dry clothes for tomorrow and hoped for anything dry to wear.
I ended up spending the night in my bathing suit, because it was the only dry apparel I had left. Emma had one long sleeve shirt, so she wore that with her underwear. Marsha pulled out a long sleeve shirt and a pair of shorts that she had sneaked aways. Marsha gets the blue ribbon for bringing enough clothes.
We had a nice fire after we made a ring of stones we gathered from the stream. e went up a small hill and gathered wood, using Emma's towel to carry it in. We had good meals and assessed the food we had remaining. I won the blue ribbon for bringing enough food!!
We made clean water and placed our water bottles in the stream to cool. We each had cherry kool-ade to drink that night. It tasted heavenly. I gulped mine down like it was Dt. Mt. Dew! Even Emma had some. She thought it was the best thing in the world, besides baby powder!!!
We nick named Marsha the water maid, for she was always making clean water for us. She really learned

to

make some good water. It was so good I couldn't tell the difference between it and Cassatt water. I made the remark that I would send Cassatt Water Co. a check for $100 and it would be worth every penny. Water is truly the gift of life...so very precious.
We had a great fire as we moaned around camp doing our chores. We burned out trash and life was good. We had an attack of ants on Marsha's tent and she took care of that immediately. She sprayed her insect repellent around the perimeter of the tent and then knocked the ants off the sides of the tent. They want away!!
We retired almost with the sun as we listened to the late calls of birds, mostly Indigo Buntings, which we had been seeing and hearing all the days on the trail.
From the tent Marsha and I could hear Emma snoring out under the stars. She got a good dusting of Dew in the morning before the Sun cam up. She described it as follows"
I laid down with moonlight, shortly after it grew very dark, then a foggy mist settled in and everything got moist, and then the sun came up. Of course it was a lot more than that, but it's hard t put it into words."
This is our last night to sleep on the trail
DID the SISTERS FINISH THIS 5 Day Backpacking Trip?