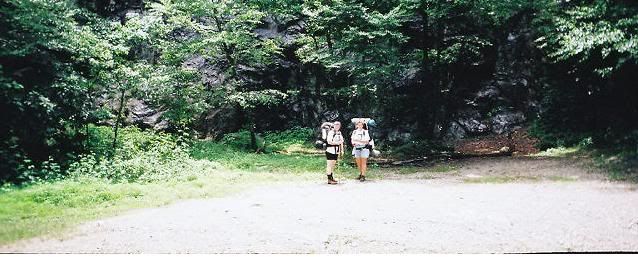 Walking on the Forest Service Rd 42- Between Horse n Cooper Gaps-
Wednesday June 7, 1995 Day 3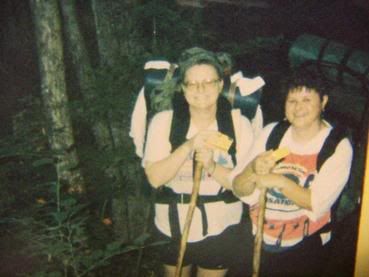 Our original destination was to be Gooch Gap Shelter. That was 8.5 miles away so we decided to stop at Blackwell Creek,which was 6.2 miles instead.
As we left camp that morning and descended into Hightower Gap, we were at 2,854 feet. Following a ridge line we eventually reached Horse Gap. Here we saw the first snake of the journey. It was a garter snake. We rested for a while and then started up Sassafras Mountain. I was looking at the road which followed along side the mountain and after having noticed that Sassafras Mt. was 3,336 feet high I suggested that we use the road to reach Cooper Gap. The map clearly showed the trail crossing back over the forest service road 42, up the way.
The walking clothes line
There was some talk about this, and some stubborn eyebrows* were raised, but in the end we took the
road. Road 42 was just a gutted gravel road, but it was busy with Army Rangers training in the area. We had seen their camp back on the ridge before Horse Gap. The road was steep, but easy to climb in comparison to tbe steep trail. When we left camp at Hawk Mt that morning I had hung my wet clothes on the out side of my pack in hopes that they would dry as we walked. I had 2 pair of underwear, one pair of socks, and a shirt as well as one bandanna hanging from the back of my pack. The Sisters teased and said I was a walking clothesline.
When we were walking this road I felt so alive that I shouted out in exuberance. I really was enjoying myself! I flagged down an army medic truck and asked the driver how far it was to Cooper Gap from there. He said it was about 1 mile. I thanked him and he drove off. Emma laughed and reminded me that I had underwear hanging on my pack. I really had lost touch with civilized behavior and it didn't bother me in the least, but it was funny thinking about how he must have taken this weird batch of women.
The Slick Rock on the FS road near Cooper Gap
We came up on a large slick rocky wall on the side of the road. We took pictures of it. It was very black and glossy looking, like coal or something. I had to have a bathroom stop right then and squatted next to the road, but in the bushes. The Sisters chided me that a truck wou1d come and I would be seen. I told them to stand by the road and get the attention of any truck. They did and one did come by, but I was not seen.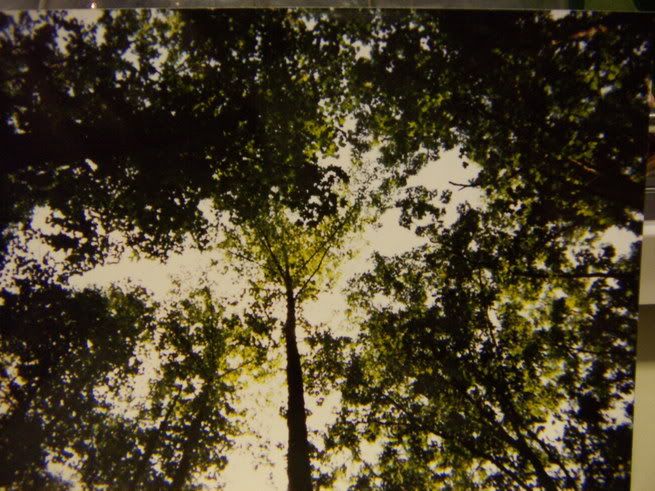 Ems Tress Overhead Shot
When we reached Cooper Gap there was Matt, Soraya, and Mic. They were having lunch, just sitting on the ground. They were surprised to see us! How did we get here? Did we bypass Sassafras Mt.? Yes we did. Boy were you smart. It was a killer, we were told. They were having peanut butter and jelly! I asked where they had gotten peanut butter and jelly. Matt laughed and said i packed it in They offered we refused. Mic, who also had to carry a pack with his food in it, was resting and he looked tired and hot. They were exhausted from the climb over Sassafras. We traveled on and up. We had begun our ascent of Justus Mt. which has two peaks. with a saddle area in between. Justus Mt. is 3,224 feet. We gained 396 feet on this climb, not as bad as Springer, but it was steep. When we reached the saddle area we stopped for our lunch. We had a cold camp and sat on some logs which were alongside the trail. Soon after the trio caught up with us and they posed for a picture. They headed on for Phyliss Spur at 3,081 feet.
We had gone 4.1 miles before lunch and we stopped at 5.5 to get water from a stream. This was Justus Creek. We spent some time here and had a wash also. The trio had decided to set up their camp right next to the creek just before a foot bridge.
Making clean water
We headed on to our campsite which was another 1.4 miles away. We hated to leave the great stream, but realized we had more ground to cover before stopping for the night. We got to Blackwell Creek at about 5:30 the earliest we had arrived at camp. We had baths and made water for dinner. We had a great dinner and had a nice log to sit on. Marsha suggested we all sleep in her tent that night and we agreed. She made it very comfortable. We put our packs in Emma's tent, and I put mine up to dry.
Emma worked on a fire for us and it turned out to be a real beauty. We burned all our food wrappers and sat on a log listening to the creatures of the night and watching fireflies. It was so totally peaceful, except for the occasional Army Ranger chopper which flew over at tree level! That was definitely a reminder of civilization! As we sat we were as tired as I ever remember being in my life, but it felt good. My legs ached, my feet cramped, and my body smelled bad, but it was great.
Emma and I sat up and the moon was about 3/4 full and there was lots of moonlight. It was just great. Marsha retired to the tent early, just after the sun went down. I guess it was 10 before we went to bed. Marsha had pitched the tent right next to the flowing creek and this was the best night sleep we had on the trail. The creek lulled us into a peaceful slumber. The only times I awoke that night was when I moved,because of the incredible pain in my aching body. I was getting sore spots on my hip bones from sleeping on the hard ground and it was impossible to sleep flat on my back because of my swayed back.
When I opened my eyes and saw daybreak, I decided to get up. It was quite a feat too! With every muscle and bone in my body screaming, I tried to get out of the tent. This was the hard way to start the day. We did our usual routine, getting water ready for our breakfast, and getting our belonging gathered back into our packs. I believe I made the statement that the back packs were our worst enemy and our best friends. It seems like I spent hours rummaging through mine looking for whatever it was I needed. It took us 2 hours to make and break campfered us some, buteach day. I believe we can shave this down next time. Life on the trail was becoming my new way of life and I could have gone on forever. I believe a few days more would have taken care of the sore muscles., We were starting to get tough!! The uphill muscles didn't hurt as bad as the downhill ones!!
Whats in store for the Sisters on Day 4?