CLIMBING SPRINGER MT.
MONDAY JUNE 5, 1995
DAY ONE OF HIKING
We get a wake up at 6:30 AM. That was their idea. The restaurant opens at 7. We all agree that eating a light breakfast is a good idea. It's hard to do though, because it's a buffet breakfast. It's hard not to over eat, but we do OK. It seems that word has gotten out about the three women who are going hiking. Our waitress seems to know it's us. Wonder how the word was spread, was it the bird watchers, the waitress from last night, or was it the big packs and hiking sticks that gave us away? Guess we will never know.
Back in the room we ready our packs for the last time. We put them on one of those wheel carts and wheel them to the lobby. We make our final check out and meet some of the bird watchers outside. We get one of them to take a picture of the three of us before leaving. We are quite cocky as we start our trek. It's about 8:30 AM.
Down the hill on the way to the AT, we are still making adjustments to our packs. They feel heavy and they don't sit right. We try everything we can to make them better. We tighten, loosen, curse, and them give up and go.
The first steps on the trail are up and it continues this way for 5 days! We are beginning a journey of laughter, sweat, cries of pain, moans of grief, and lots of fun and thought.
ON THE TRAIL OF SWEAT AND MOANS
There is a gentle creek flowing on our left as we begin our walk. It is so peaceful and beautiful. The trees make an entire canopy over us. It's very green and smells of damp earth. We chatter and laugh. We cross a foot bridge and the trail continues around to our left and up.
<><>

<>
>>>>

>>
Lunch on Frosty Mt.
<><><><> >> >>
The trail is getting steep and we breath heavy, and have to stop to rest a lot. We go up 10 steps, we rest 5 seconds. This is the only way we can make it up. The trail goes up and down and we are happy with the downs and the flats (few though they are). Around 11 AM we decided to stop for lunch. We had reached what appeared to be a level flat area on top of Frosty Mountain. There was a campsite here so we parked on some rocks and had lunch. Our first meal on the trail was a hot lunch for Marsha and Emma and I had our viennas. We had passed the first other hikers coming south. I asked how the trail in front was and they replied, steep. I answered that it has been steep already. They were young and had little time to converse with forty-ish looking women. (Brats!)
During lunch it started to mist rain. We lifted our eyebrows, but said nothing. After lunch we had a long downhill stretch.
Summit of Springer
3,782 ft
7.1 miles
By mid afternoon the mist was slowly turning to rain. Emma decided to put her slicker on, but there was a problem. It looked like a child's slicker. It just didn't fit. We ended up tearing it all to pieces in order to get it over her. I decided not to cover myself, I was too hot!! Marsha had forgotten that we were a three some and went off far ahead. We caught up to her in a flat area where a sign said water and pointed off to the right. There was a narrow trail leading off and down. Just before we started down the trail a young man, woman, and dog slipped by us. They were looking at a campsite on the left, but the man said "the shelter can't be much further." He was wrong! It was much, further.
Marsha and I headed down the trail to the water and Emma stayed with our packs back on the AT. We must have gone ~ a mile and no water. I urged Marsha to forget it and let's go back. She agreed and we returned empty handed.
Back on the trail it had started to come down pretty hard and we headed onward. Marsha ran off and left us again, and we thought the shelter was a goner because of the young couple ahead of us. Emma and I tried to keep up, but we were exhausted and the trail was steep and wet.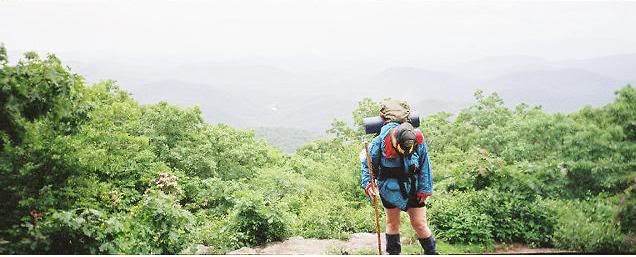 Emma reads the Plaque Terminus of the AT
top of Springer Mt.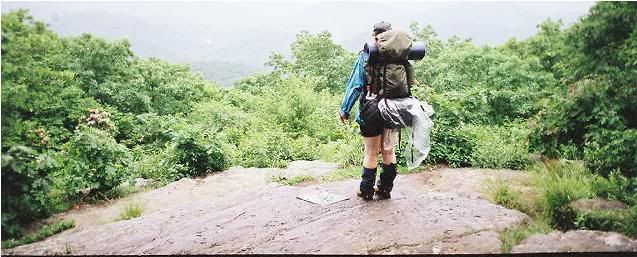 Emma's not so good rain slickr
Thinking we may never see Marsha again we did our best to climb Springer Mountain. We had begun our day at the lodge at 1,700 feet. Trying to get to the top of Springer at 3,782 feet had taken all our strength. When we arrived at the bronze plaque on the top of Springer, Emma and I were too exhausted to even look at it. "Oh, there's the plaque!" "Yeah, yeah, lets get to the shelter." The couple who had passed us were there signing a book that is kept at the top of Springer for visitors to sign. Marsha asked if we wanted to sign it and after a long pause and lots of thought about the energy this would use I replied "you do it for us" The young man seemed to think this funny for he laughed, and apologized for taking so long to write his part in the book. Marsha did stay and write for us, but I can't recall asking her what she wrote!!
Emma and I trudged on to the shelter just to find it was already occupied by a man and his two sons. They invited us to share, but not knowing them we declined and searched out our own encampment. It was a good spot, but it was pouring rain, so this put a damper on things.
Our first order was water so we headed for the spring with water bags in tow. At the spring we met the young man and he asked who had the Bronco with the sticker about DON'T SHOOT BIRDS OF PREY? I replied that I did, and how did he know that? He replied that he had seen it in the Byron Reece parking area. Then he said "You guys must be the
Sister Act."
We replied that we were and asked how he knew. He then told us that he too had been driven by Wes Wisson and Wes had filled him in on us!!
Knowing he was known to Wes made him a friend not foe so we chatted some more. He offered to let us use his water filter pump, but it seemed only fitting that we do it the hard way. After all we are Wallings and were quite capable.
Back at the camp the rain was getting harder and we hastily cooked on our miniature Coleman. We ate in Marsha's tent, it was the roomiest and it was quite cozy. After dinner we returned to our own hastily arranged tents to wait out the rain. The rain didn't stop, so there was no evening around the fire this night. We conversed from the safety of our tents and we laughed and moaned with the pain of sore muscles that we didn't know existed until now. I moaned so much the Sisters got concerned and asked if I was OK. I was, but I had never felt worse.
My tent was too small to sit up, and laying down was not much better. I finally did drift off to sleep and there was still daylight left. I awoke and it was dark, and I had to GO! I tried to turn around in the small tent, but sore, aching, stiff muscles wouldn't let me. I struggled to get to the entrance of my tent and just as I did I felt my bladder go and my pants got wet. Shit, I had wet my pants!! I was in misery, my body crying out and my pride injured as well. I finally made it out, dressed only in my underwear and bra into the rain to finish the job. It was not the highlight of my journey thus far.
The rain continued all night and sleep was not pleasant. The hard ground, damp tent, and aching muscles made for a rough night. Marsha had trouble with animals that came to eat our leftovers in the night. The animals brought the leftover food packets right next to her tent to devour. It frightened her and she stood ready with pepper spray and a knife to defend if necessary. We saw someone walking toward our camp with a flashlight and we all three turned our lights on to frighten the would be assailant away. Some poor soul didn't have a peaceful place to take a wiz, because the Sisters were on guard!!
It had taken us 9 hours to get to the top of Springer Mountain.
We had walked, or should I say climbed 7.1 miles. That's .86 tenths of a mile per hour. We had gained 2,082 feet in altitude.It had been hard, but the
Sisters had made it.
Would we survive the night? Go to Day 2